CORONAVIRUS INFORMATION
NHS 111 has an online coronavirus service that can tell you if you need medical help and advise you what to do. Details of the on-line service are can be found on the NHS 111 advice page.
Use the NHS 111 online coronavirus service if:
you feel you cannot cope with your symptoms at home
your condition gets worse
your symptoms do not get better after 7 days
Only call 111 if you cannot get help online.
Further information and travel advice is available on nhs.uk/coronavirus.
Our aim during the crisis is:
To prevent the spread of coronavirus to our vulnerable populations.
To help support our vulnerable patients.
To continue to provide medical advice and help for non coronavirus illnesses to all.
In order to do this all GP consultations will initially be done by phone and all visit requests will be assessed by phone first. TO BOOK A TELEPHONE CONSULTATION WITH A GP PLEASE DO NOT COME TO THE SURGERY but call us on 01798 342248
Our nurses, healthcare assistance and phlebotomists are still seeing patients face to face. If you already have an appointment booked with a nurse, healthcare assistance or phlebotomist and are displaying symptoms of a new cough and or fever, please do not attend. On arrival to your appointment you will be asked to wait outside until called.
Repeat prescriptions can requested as usual. We encourage our patients to send their repeat request by email to petworth.surgery@nhs.net or via their online account. Traditional paper slips are accepted too. In aim to reduce the risk of infection we created a temporary dispensary hatch (window) that is accessible from outside of the building. ( Right next to our main entrance).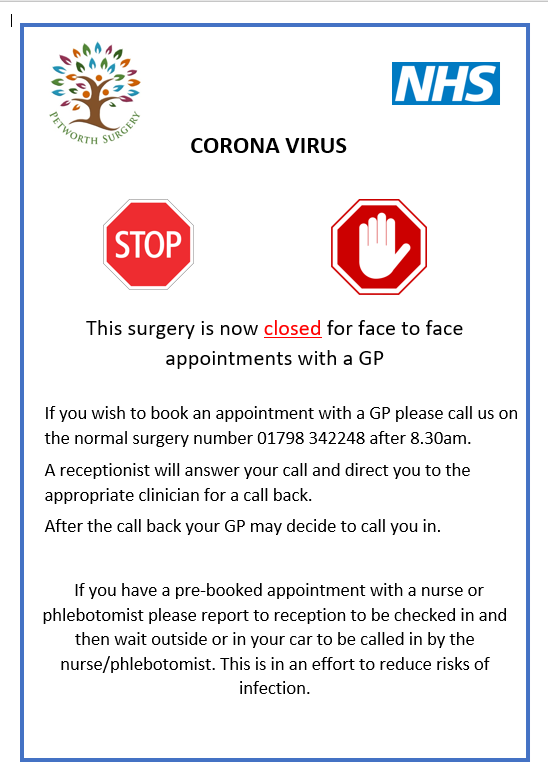 If you have any symptoms the advice is to self isolate and stay at home. That means DO NOT COME TO THE Surgery. For advice, visit 111.nhs.uk
This will also ensure the safety of the practice team and also patients who may be undergoing treatment that reduces their immunity.
This is the latest advice from UK government about Coronavirus.
Staying at home means;
* try to keep at least 2 metres (3 steps) from other people in your home, particularly older people or those with long-term health conditions
* ask friends and family and delivery services to deliver things like food shopping and medicines – but avoid contact with them
* sleep alone if possible
* regularly wash your hands with soap and warm water for at least 20 seconds
* try to stay away from older people and those with long-term health conditions
* drink plenty of water and take everyday painkillers, such as paracetamol and ibuprofen, to help with your symptoms
It is likely that in the coming weeks our service will be under huge pressure due to workload and our own staff self isolation measures. It is important to us that if you feel you might have a significant illness or need help with managing a chronic significant condition that you book an appointment with us in the usual manner. Please use the NHS website for advice on how to manage minor problems and when to seek advice.
Please consider (if possible) buying a thermometer and blood pressure machine for use at home. If you have asthma a peak flow meter and if you usually suffer from breathing difficulties a pulse oximeter. Also consider practicing how to take a pulse and count a relatives breathing rate in breaths per minute. This information would be extremely helpful in a phone consulation with a nurse or doctor.
Appointments System
We provide a Same Day Service for acute medical problems and for patients who feel that they may need to be seen or supported that day.
The Same Day Service is provided by a team of experienced GP's and Duty Doctors supported by Nurses and Healthcare Assistant.
The Same Day Service runs between 08:30 and 11:00 and again 15:30 until 18:00, Monday to Friday. You can utilise this service either by calling us on 01798 342248 or popping in. If you feel that you need advice or support the Same Day please contact our Reception Team. Our Reception Team will ask you for a brief summary of the problem or concern. This is to help them direct your call to the most appropriate person.
We also offer pre-bookable appointments for routine check-ups, i.e. Long term condition reviews or GP follow ups. Please call after 11.00am to arrange this with our reception team. They can be booked up to six weeks in advance!
Please note 1 problem per 10 minute appointment. If you should need more time with the GP, please use our pre-bookable service to do so.
Extended Practice Opening Hours
Extended Hours - 07:00-08:00 once a week on alternate Tuesdays and Thursdays.
The service offers routine, pre-bookable appointments with a GP, a nurse, or a phlebotomist.
Additional Hours Appointments
Patients registered with Petworth Surgery can now access GP and nurse appointments until 8pm on some weekdays, and from 10am - 1.30 pm at the weekend.
These appointments are currently being held at Riverbank Medical Centre in Midhurst and at Pulborough Medical Centre. If you would like to book any of these appointments please speak to our reception.
Cancellations & Reminders
Cancel an Appointment
It is important that you inform the reception staff if you are unable to attend your appointment, this will allow us to offer the appointment to another patient. If you fail to notify the Practice that you are unable to attend, you will be sent a letter informing you that you have defaulted from your appointment. Persistent defaulters maybe removed from the list.
You can also complete our appointment cancellation notification request form. This can only be used if your appointment has been arranged for more than 24 hours in advance. (excluding weekends and public holidays). You can also text to cancel your appointment or use the Online facilities.(You need an Online User Account for this).
Text Reminder Service
We have a texting service which allows you to receive confirmation and reminders about your appointments.
To have this service you will need to register by completing a consent form.
Please remember to update your contact details with us when you change address, telephone numbers and email address.
Late For Your Appointment
Please attend your appointment on time, if you are late you may not be seen. If you are not seen you will not be able to rearrange your appointment until the next working day-except in the event of an medical emergency that requires immediate attention.
Interpreter
If you require an interpreter to attend with you when you see your Doctor please notify the receptionist and she will arrange this for you.
Home Visits
Whilst we encourage our patients to come to the surgery where we have the proper equipment and facilities available, we do appreciate that this is not always possible. If you do need a home visit, you can help us by calling reception before 10:00.
You may request a home visit if you are housebound or are too ill to visit the practice. Your GP will visit you at home if they think that your medical condition requires it and will also decide how urgently a visit is needed. Please bear this in mind and be prepared to provide suitable details to enable the doctor to schedule house calls.
You can also be visited at home by a community nurse if you are referred by your GP. You should also be visited at home by a health visitor if you have recently had a baby or if you are newly registered with a GP and have a child under five years.
Doctors' Clinic Days
General Practitioners at Petworth Surgery see patients on the following days of the week:
Dr Simon Pett: Mondays, Wednesdays and Thursday
Dr John Scahill: Mondays, Tuesdays and Friday
Dr Christin Polden: Tuesdays, Wednesdays and Fridays
Dr Sue-Ann Knight: Mondays, Wednesdays and Thursdays
Dr Stephanie Temperton: Tuesdays, Thursdays and Fridays
If you need to see a doctor on a day when your usual GP is not seeing patients, please contact our Surgery and our reception staff may be able to offer you an appointment to see one of our other doctors.
Practice Nurses
In a number of cases it might be worth considering an appointment with a practice nurse rather than a doctor. Practice nurses are qualified to deal with many conditions and you may be seen more quickly.
Our nurse is available Monday to Thursday between 08:30 - 17:00 and appointments can be booked up to six weeks in advance.
Training Practice
GP Registrars
The surgery is a training practice for fully qualified doctors with experience of hospital medicine, who wish to become GP's. During their time at the surgery they are known as GP Registrars.
Medical Students
The surgery also contributes to the training of medical students. From time to time students may be present during surgery consultations. If you do not wish them to be present at your consultation please let us know.